05 mars 2018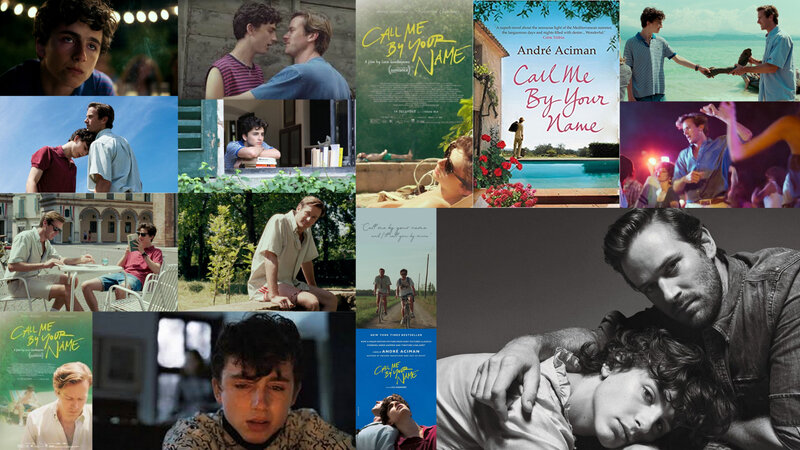 To read only if you've seen the movie because of course there are spoilers!
Plus, it's no more than some of my thoughts rather than a review.
Oscar nominations, great reviews, covers, promotional tours…it's hard to miss the new cinema phenomenon "Call Me By Your Name" directed by Luca Guadagnino and starring Timothée Chalamet (youngest nominee since 1939 – he's 22 years old) and Armie Hammer.
Here's what I thought of both the book (written by André Aciman in 2007) and the movie:
This was one of the books that I've most loved lately. It's pure perfection. I never read anything like this. It's real, true, sincere. André Aciman plays with words as love plays with our hearts. Every single word is accurate, precise, sharp, right. I felt everything.
Reading it was like a tempest. I went through all situations: I cried, I laughed, I smiled, I was happy but also pissed off (so much!), often angry towards Oliver but the other time my anger was against Elio. At Oliver because one time he was saying something and the next time it was already something else. Then, I felt sorry for Elio but then he pissed me off too because he wants Oliver but few hours later he's like "No I don't want you anymore".
Angry at Elio…or was it against myself? Because here's the thing. This book or especially the character of Elio, could perfectly personify, embody your life whether you're gay or not. We find ourselves in Elio somehow. We can totally relate to him, his hopes, fears, dreams, illusions or hallucinations, nightmares… It's like this book is your own tempest.
Some sentences were so true and felt so real, and I could literally hear inside my head my voice saying "Yeah, this is exactly it! This is what I think or what I feel! It's insane! Is the author inside my head?" Words are powerful. Though, the last part of the book is what really killed me. I seriously cried all through the last 50 pages so hard…Sometimes I barely could see through my tears. I've never cried that much over a book. The speech of the dad…the idea of Oliver's leaving…his and Elio's last moments together... Well, it was deeply moving, overwhelming, fascinating, real (truth) and so natural.
In the end, in some parts of the book we could wonder if Elio was more in love with the idea of being in love or with Oliver…but that's debatable.
"Call me by your name and I'll call you by mine". That sentence. At first, before reading the book and knowing nothing about the story, I made the assumption it was like "your name"… one day we'll get married, we'll exchange our names. For me, it was their way to link to one another. But I was so wrong. Actually, it was the fact of calling one another by each other's name to intensify, deepen the feels while they were having sex, to feel more, to feel full as one body. I guess. If I remember well, Oliver says something such as "it's like making love to yourself".
This book is all about youth, finding who we are, finding our path. It's an introspection of ourselves. The book revisits this so huge classic that is first love, the heartbreak, and which impact it has on you as a person. But this is also discovering who and how you are with someone else.
I may add that the book and the movie goes further in the way that, of course, a person can change your life but a place as well. Their story happened in Crema (and nearby), that will never change but it has changed the people who were there (E & O). Each of them has left a piece of their personality in Crema, in Italy and it's crazier when you think it was over such a short period of time. They arrive the way they were but leave forever changed thanks to different factors: the environment, the Italian atmosphere, even the weather may have played a role. What I mean is that it's not just a combination of circumstances that brought Elio and Oliver closer to one another. And also, this experience changed them in a common manner but mostly in an individual manner.
Actually, there's one thing I don't get. Oliver could have leave his life from the US, walk away from it and choose to stay with Elio. He loved Elio so much so it's hard to understand. He could have stayed but no…he decided to get married with somebody else and have kids. Of course, I understand, as he says in the book his dad would have send him in a correction house. To be honest, I think the role of the parents had a huge role in the story. See, Elio lives freely, experience lots of things, talks about everything to his parents, confides in his parents a lot because they permit it and they raised their kid this way. They are very open-minded. Nothing will ever be more beautiful than this speech given by Elio's dad. They accept who their son is, they're even very proud. And this is why Elio is dreamier about this relationship, allows himself to feel more and even more painfully we may add. Oliver, always knew in a part of this mind that he will eventually have to go back to his old life.
However, the book goes further than the movie actually and this is where things tend to differ. Normally, Oliver comes back after leaving that summer and it's during his short stay that he announces to Elio, face-to-face then, that he's gonna get married. Elio takes it well at first just to hide his disillusionment, his pain and the fact that he's crushed and broken. That sorrow is the hardest he'll ever have to face. But the book goes further, and we meet again Elio and Oliver throughout the years until 20 years later actually. They rediscover themselves. To be fair, there's something strange and funny with the book related to this part. In the first part, it's all about Elio, there's little of Oliver's opinions but the last part it's the opposite: we know little about what Elio has been up to for the past 20 years whereas we know a lot of Oliver and his family. But after all this time, their relationship is still beautiful and sincere, and they've never forgotten what they had, what they've been through. Like Oliver says "I'm just like you. I remember everything". They remember a couple of days which happened 20 years ago like if it had happened yesterday and it's so much more than what people can usually wish for.
The last paragraph is the one of the best ones ever written because it still symbolizes Elio's hope and desire at the same time. He just wants Oliver to turn around and call him one last time by his name: "If you remember everything, I wanted to say, and if you are really like me, then before you leave tomorrow, or when you're just ready to shut the door of the taxi [...] look me in the face, hold my gaze, and call me by your name".
And this is where the movie differs because it ends with Elio learning Oliver's wedding over the phone. Then, Elio goes to the fireplace, sits in front of it and starts crying.
Timothée Chalamet's performance in this very last scene is nothing short of spectacular. He's a wonderful actor. He cries for about one minute, even more, the look lost in the flames. His tears are rolling down his cheeks. It seems the world keeps spinning around him, Elio is like in his own bubble. We keep hearing the noises around him, of the kitchen, the dishes tinkling between them, people walking around. It's so intense and we just feel all this pain. I was so breathless during this entire sequence. Timmy is showing all the facets of his acting. And then, suddenly we hear Elio's mum saying his name, once, twice and Elio finally gets out of his bubble and turns his head in direction of his mum who is standing behind him. Even this gesture is full of symbols. It represents Elio turning towards the future and towards the thought it's perhaps time to finally move on.
Moreover, the soundtrack was such a pleasure for the ears. Sufjan Stevens is signing here two incredible songs: "Mystery of Love" (nominated for the Best Original Song Academy Award) and "Visions of Gideon". What is well thought out is that the lyrics sticks to the story but mostly to the scenes shown on screen. For instance, "Mystery of Love" is about first times like "The first time that you kissed me / The first time that you touched me" whereas "Visions of Gideon", which is at the end of the movie, is all about last times with "I have loved you for the last time / I have touched you for the last time / And I have kissed you for the last time". The latter, intensifies the fireplace scene so much. Actually, I've read somewhere that to get into the emotion of the scene Timothée had a earplug playing this song so it could feel the lyrics and it meant so that tears could come down naturally.
Plus, there are songs representing the "international side" of the movie. Like French songs "Bandolero – Paris Latino" or Italian ones "J'adore Venise – Loredana Berte". In fact, in the movie the actors are speaking French, English, Italian, etc. Actually, Timmy who is French and American had to learn Italian before filming but also how to play the piano. There are lots of scenes with Elio playing the piano and transcribing music. He's very talented and the "classical" soundtrack is on point as well. In truth, the piano is an object of its own. A tool to the story. It represents dialogues between Elio and Oliver especially at the beginning where Oliver is asking Elio to play over and over again. But also in this scene where the family receives some friends. The piano is like an obstacle between Oliver running up the stairs and Elio sadness downstairs depicting the distance between them at this moment of the film.
However, there are parts of the book which aren't present that much in the movie. But that didn't bother me because the way it was filmed offset all the "negative" we might encounter while watching. By "negative" I mean the negative effects of not having Elio's thoughts for instance like in the book. I think the cinematography was awesome. Those long sequences, plans with the characters disappearing of the screen in the horizon was a way to slow the pace of the movie. The silence of the scenes sometimes was a time of reflection and contemplation. It was like taking a step back to get a better view. For me, some of those scenes can be assimilated to Elio's state of mind, thoughts, doubts…it was a way of expression by itself.
We don't have the information as well about Oliver's swimsuits (which could have been great to be honest) or the poetry side or art (Monet secret spot) which lead Oliver in the book to take Monet's painting in Elio's bedroom. Talking about art, the book author's is always making references. He writes about peoms, tragedies, other people's struggles in literature but in fact, pretty much all of them refer to Elio and Oliver's story. It's heart-breaking and devastating sometimes.
But actually, for Elio's point of view, I think it was a good thing I read the book first, before going to the movies, because it makes the movie even more intense. Plus, Timothée did an amazing job. It was a prowess of acting. We could feel what he felt, know what he thought thanks to his face. Timmy is like an open book with very expressive eyes and gestures which help a lot to understand the complexity of his character. He's given all of himself, he wasn't scared to play "fully". He brought this complexity of the character to life (sometimes a little clumsy, insecure, sincere…). Elio's break down at the train station, for example, after Oliver left, was poignant, understandable, calling out his mum to get the support he needed. It was a cry for help.
Some scenes were like reading the book which is rare for an adaptation like the one where is crying in Oliver's arms or him sneaking into (his) Oliver's bedroom.
Moreover, James Ivory did great adapting the book to the screen. He won the Oscar of Best Screenplay on March 4th, 2018 making him the oldest recipient (89 years old) ever in the Oscar's history.
In the movie, some scenes don't need any explanations at all and shine on their own, without any word…
For instance, Elio's dad speech was as deep as in the book. It was a very emotional moment. And to be honest, it was a living experience. In the book, with this part I burst into tears, literally. I didn't want to relive this experience at the movies especially with so many people around me in the room. But, I cried…again. However, what was "fun" to watch was that I had exactly the same reaction as Timothée acting…At first, you're okay, you just listen to what the dad has to say but the more the speech goes further and the more the feels arrive and we can see Tim go white a little, so as us, holding his breath like us…and then, the camera goes back to him in the end and we can see the tears in his eyes ready to fall just like us. It's like a long process. This scene represents the perfect depiction of family love and more particularly the father and son's relationship. Elio is feeling understood by his dad and even if he's sad I think here he's mostly grateful to have such an understanding father.
Also, the scene in the car… no words…just a song. We can observe Elio's layers of sadness in this scene. The song is actually the one that was played on the radio in the bar when Oliver went to play poker with Elio.
PEACH. Yeah I think most of us know what this word means. Personally (& so as my friends) we'll never going to see a peach the same way ever again. Tim did such a great job here. It takes bravery to play such a scene and I'm glad they still decided to keep this scene and especially I'm glad they kept it as truthful as inside the book. Armie's acting was on point here as well.
By the way, let's talk about Armie Hammer. I'm so disappointed he doesn't have the recognition he deserves for this movie. He didn't get as many nominations and awards as I hoped he would. Actually, I'd die to have a "prequel" of Oliver's life. He's such an interesting character, complex with multiple facets. I was sad in the book we didn't get more Oliver's point of view. It could have been nice to see what he thought of Elio and about this entire situation. But in the other hand, this is why I'm happy about the movie because we had close-face camera shots of Oliver like on his reactions. And this was great because it gave us insights of his mind. Also watching Armie Hammer's moves on the dancefloor is the best thing EVER!
Also, we'll never forget the now famous (or should I say infamous) "Later!". Elio thinks it's arrogant to say that. But using "Later" is like a way of never going away because "later" is incomplete, it's an unfinished word. By saying this Oliver shows is here, present, near by and that he's not far away. With time, it becomes a mark of almost affection. Even the parents say it when Oliver leaves. Maybe I'm crazy but I looked up for the etymology of the word "Later" as Elio's dad and Oliver do in the book and movie. The etymology is quite fun and ironic I would say because the suffix "-later" is from the Greek "Latrēs" which means "worshipper". And it's funny because it's Elio in the book that says to Oliver "Do I like you Oliver? I worship you". It's a very nice parallel.
Finally, the look Oliver gives Elio the last morning, in that bedroom, overlooking Elio while he's still asleep, was so …waou! Powerful and magnificent. Armie did so well. At this moment, we eventually see he's suffused with sadness. It's like a knife in the heart.
The book is special to me. It left me wordless, upset. Reading it is an experience by itself. It gives you chills, goosebumps. You feel the passion, the sensations, the discussions between the characters are deep, profound. Most of all, the book is sensitive, captivating, timeless and modern. The book, and by default the movie, is about confronting your feelings, searching yourself. You feel like you know something but unless you try it you'll never know. You have to try your own experiences (Elio's parents are all for it like I said).
We can see Elio's attachment to Oliver. It's almost a possessive one. We can see that in some sentences such as "I don't want him to be this way with other people if I'm not there, if he's not like that with me" "I want him to be with other people as he is with me". But Elio is very wise, so it helps him getting through all the obstacles he might encounter on his way. We see this as weel while Elio is talking to his dad stating that he wouldn't be him without Oliver and to what his dad responds that Oliver wouldn't be him without Elio as well. It's a powerful relationship.
And it's in the book that we understand more easily why it has taken so long for the both of them to get together. Like I said I was frustrated about this but the fact is they are the two shiest people in the world! So the story is about misreadings, misunderstandings as well. Oliver was in love since day one, when Elio blushed but they only started being together weeks later, a couple of weeks, days before Oliver's departure. It seems so unfair in a way.
Plus, in the last part, Elio knows Oliver's going away soon but he still lives his life acting like if Oliver's always gonna be here and like if tomorrow wasn't the next day. The last paragraph of this last part is mostly about a poem of San Clemente (which I'm kind of sad they didn't mention in the movie) and Elio says "We should go to San Clemente tomorrow!" and here Oliver responds "Tomorrow is today" and actually, I think this is where we know the story ends between them. I was overwhelmed by all those feelings. It was a rollercoaster. One second you're happy seeing them dancing in the streets and then one second after you're running out of tissues!
"Call Me By Your Name" truly gives a total new aspect to this sentence that is "If not now, when?".
Just to conclude, here's some information:
Timothée said in an interview that the film taught him some stuff about love like for instance, when you love you have to love fully, jump right in and if you suffer that's totally normal, it means you're doing it right.
Luca Guadagnino is already working on a sequel alongside André Aciman. The story should be set 5 or 6 years later and still starring Timothée and Armie. In my opinion the movie ends in a perfect way. Of course, it's tragic, it leaves the spectator quite frustrated, but it works. So, it could have been a great ending and that's why I'm not entirely sure what to expect next. Honestly, I don't know what to think about this sequel.
And you, what's your opinion on "Call Me By Your Name" ?