13 mai 2018
Bonjour tout le monde! Découvrez ma toute nouvelle vidéo sur Outlander. J'espère que vous l'aimerez autant que la première! N'hésitez pas à commenter et à partager!
Hi folks! Check out my new video on Outlander! I hope you'll like it as much as the first one! Comment and share please! ;)
12 février 2018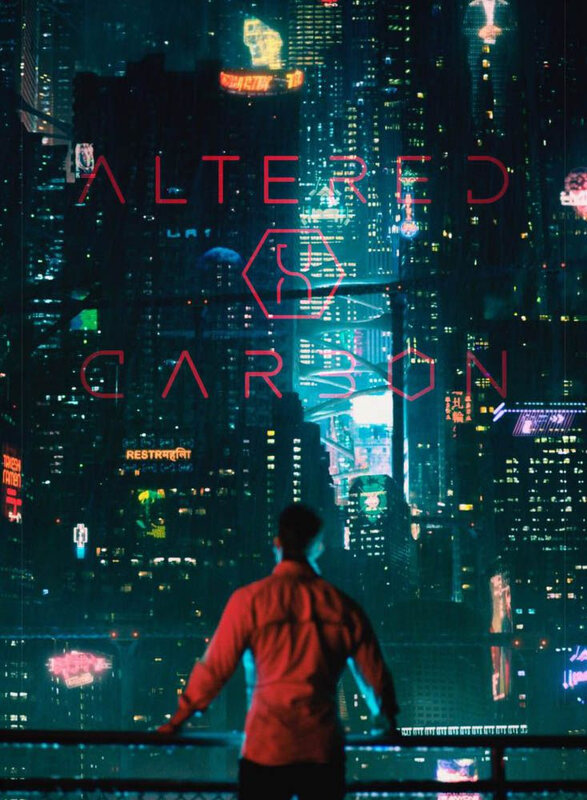 SPOILERS AHEAD!
Synopsis:
The story takes place around the 25th century. A soldier, answering to the name of Takeshi Kovacs, wakes up in another sleeve ("skin") after 250 years of "death". He's hired by a meth (meaning a very rich man) Laurens Bancroft to solve a murder: Bancroft's own murder. Bancroft changed his sleeve but of course he'd like to know who's trying to kill him.
At first, "Altered Carbon" is based on a series of books (trilogy) first published in 2002. (Actually, I bought them but I didn't read them yet so I can't compare the books vs the series).
My opinion:
First of all, the casting was pretty well chosen. The actors are great. I'm not gonna lie: I didn't knew Joel Kinnaman from before given the fact I've never seen "The Killing" nor the Mexican actress, Martha Higareda, playing Kristin Ortega.
Joel, for me, is the perfect guy to impersonate Kovacs: a deep voice, a great body and an acting on point (he has a lot of charisma). As for Ortega, she's one of my favorite alongside Quell (played by Renee Elise Goldsberry): badass, they both have character. I simply love them! Plus, Ortega is loyal and has integrity.
I also liked the fight scenes (especially the one during episode 4. It was insane!). For a TV Series, I found it to have great action. And the good scenario really helps achieving this. Although, sometimes some storylines struggled a bit. For instance, the storyline with Kovacs's sister, Reileen Kawahara (Dichen Lachman, actress we've already seen in The 100) at the very end started to be quite long in my point of view. I think the story concerning the sister could have been wrapped up in less time. But the end is interesting, learning like this what she did in the past concerning Quell. The chapter is brilliantly closed and it suggests a promising season 2.
"Altered Carbon" enters into the future. As I mentioned in the synopsis people live into "sleeves", meaning they live with other poeple's body, not with their original ones*). Furthermore, their conscience is inside "slacks" which are tiny microchips located at the back of their neck.
*The only people who can afford leaving with their original body are called "meth". They are "very rich people" who can create "clones" of themselves. The meths actually live in the air, up in the sky such as living gods.
For me, sleeves are very useful and very convenient. This process offers you immortality (who has never dreamt of that?). Of course you'll be alive as long as your stack's okay (even if your body dies). On the other hand, if your stack gets destroyed, then your fate will be "real death" (RD).
However, if that would happen in real life that would be scary …a bit at least…. In fact, you're not truly yourself…of course you have your conscience but bodies are also important. It should take time to adapt so I don't know about those). Also, there will be a time for adaptation in terms of gender (which brings back to the current issues of today's society). Indeed, in this series there's no more "proper gender"… at least you can switch. It's very futuristic (a woman can perfectly end up in a man's body and vice versa).
As we speak of the future, I think it is well represented. The design and graphism are outstanding: virtual boards, phones in the eye, smart bracelets, iron arms with extraordinary force, etc. Surgery is an entire new thing as well. It's expensive (quite like today in certain countries where only the very rich can have the very best of treatments) but it has known such a progress. It goes the same with technology. There are flying cars, the bombs end up having electric shields, bigger amplitude, etc.
Also, there are new activities and services. I'm not gonna enumerate all of them but only the one that talked to me: the Raven Hotel. See I study tourism and it was very interesting to see an AI (Artificial Intelligence) owning the place, "being" the hotel and being a "possessive" hotel. By possessive I mean they're protecting their customers at all cost (guns in the ceiling, watching everybody's moves quite like a raven). If we think about it it could be possible actually, technically speaking, to put that in place but of course, I'm not sure tourism is going this way at the moment ;)
To conclude I would say that even if it's the future, the show reflects on what's happening at the moment in today's world. There are lots of problems concerning gender identity, the poor and the very rich...
However, in the end, things get complicated because of course Kovacs's sleeve isn't just a sleeve: it's Elias Ryker's sleeve who was Ortega's boyfriend and partner in the police (suspended for about 200 years). It's when we found this information that we start making connections and learn how everything's linked between Ryker's case, Bancroft's murder, the Ghostwalker, etc. Obviously, Kovacs and Ortega relationship is hard to define.
Like I mentioned previously, a second season is already planned, although Joel Kinnaman said he wasn't sure to be back so that would mean Kovacs is back into his old skin (or another one perhaps?). Anyway, I loved the interpretation of both actors (the main ones): Joel Kinnaman and Will Yun Lee even if sometimes I felt quite torn between the two...like if they were completely different actors.
22 mai 2017
Here's my video about the TV Show "The Royals". This one is particularly focused on Liam ...or should I say King Liam (haha).
King Liam - The Royals (King)
21 décembre 2016
Hi guys! Here's my last video about Teen Wolf . It's focused on two of the main characters Stiles and Lydia..... (#Stydia) ;) Enjoy!
Salut ! Je vous mets ci-dessous le lien pour aller voir ma toute dernière vidéo sur Teen Wolf. Elle est surtout à propos de Stiles et Lydia qui sont deux des principaux personnages de cette série .... (#Stydia) ;) Enjoy !
Teen Wolf - Stiles & Lydia (Stydia)
29 juin 2016
I only started to wacth the TV show "Blindspot" a few days ago. At first I was quite skeptical because I was afraid it would look a lot like John Doe or Kyle X ; even the tattoos seemed to be overuseed in shows before making me think of Prison Break (and only them, not anything else in the show). Indeed, the speech is mainly about a girl coming out of nowhere, with no memories of who she is, no name, no family, just strange physical characteristics. But it turns out I was wrong to think like this and it was confirmed as soon as I watched the first episode.
For those who have no idea of what I'm talking about here's a little synopsis:
A woman is found in a bag in the middle of Times Square, New York with no memories at all of her past life. She doesn't even know her name. And more strange her body is entirely covered with all new tattoos. One of them is the name of an FBI agent, named Kurt Weller. Him and his team alongside "Jane Doe", will try to figure out the mystery following the clues left on Jane's body...
So here's 5 reasons why you should definitely start watching this show which has been renewed for a second season (Yeaaahh):
1 - The tattoos
Jaimie Alexander spent at least 7 hours a day inside the make up room. It's crazy. Each inch of her body is covered with all different kind of tattoos. In the show, they're mysterious and don't seem to have a rational explanation yet. Actually, the tattoos are considered as clues in the investigation. Each has a meaning leading towards cases of corruption, murders, hostage crisis, terrorism, etc. They can be drawings or series of numbers but they're on Jane for a reason.
2 - Interesting investigations
I could have put this section in the first one because the two are linked but I prefer distinguishing them. It changes from other TV shows that we're used to watch. The cases are well-built, interesting with action, suspens and the themes are very particular. And all are linked to Jane's tattoos which adds up a little bit more intrigue. It's like a treasure hunt where you have to follow different paths.
Moreover, Jane's story is going deeper than you'll ever imagine...
3 - A team with secrets
At least each person on this team as a dark secret. Patterson and her boyfriend trying to figure out things on their own. One of the agent has a huge gambling problem with enormous debts whereas another one has no issue with dating his partner's sister. Crazy!
4 - A dynamic duo
Jane and Weller. Of course, there is this story of Jane's identity which seems to link them even if we're not quite sure if Jane is actually Taylor Shaw, the ex-neighbour of Kurt Weller who disappeared 25 years ago. But still, they're amazing when working jointly. They complete each other's personnality.
5 - Mad skills
Jane is a machine. I love her. She's strong, knows how to fight. She speaks many languages. She has charisma and I think Jaimie Alexander is the perfect actress to play her. I think most of people know her from Thor in which she played Sif.
25 juin 2016
Hi folks! Here's my all new video about the lead characters Ross and Demelza (respectively played by Aidan Turner and Eleanor Tomlinson) in the Poldark series. Hope you'll enjoy! Comment, share & subscribe!
Bonjour tout le monde ! Voici ma nouvelle vidéo en lien avec la série Poldark et plus particulièrement sur les deux personnages principaux Ross et Demelza (respectivement joué par Aidan Turner and Eleanor Tomlinson). J'espère que vous apprécierez ! N'hésitez pas à commenter, partager et abonner vous ! ;)
Poldark - Ross and Demelza (Where's My Love)
04 mai 2016
Take a look at my all new video on Daredevil ! And don't forget SUBSCRIBE, SHARE & COMMENT ! Enjoy guys! ;)
Salut tout le monde! Aujourd'hui sort ma nouvelle vidéo sur Daredevil! J'espère que vous aimerez! N'oubliez pas que vous pouvez vous abonner à ma chaîne Youtube, partager et commenter ! ;)
Daredevil (Pvris - My House)
17 avril 2016
Salut tout le monde !
Je profite du fait d'avoir un blog, pour faire partager ce petit lien qui vous conduira directement à ma deuxième vidéo Youtube en lien avec la série The 100! N'hésitez pas à commenter !
Hey guys !
I'm writing this to share this link that will lead you directly to my second Youtube video in relation with the series The 100! Don't hesitate to comment!
The 100 - Bellarke / Linctavia / Kabby (PVRIS: You and I)
31 mars 2016
Salut tout le monde !
Je profite du fait d'avoir un blog, pour faire partager ce petit lien qui vous conduira directement à ma première vidéo Youtube en lien avec Outlander! Certes, il ne s'agit pas là d'une oeuvre d'art mais c'est un début ! N'hésitez pas à commenter !
Hey guys !
I'm writing this to share this link that will lead you directly to my first Youtube video in relation with Outlander! Certainly this is not a masterpiece but it's a beginning! Don't hesitate to comment!
Jamie and Claire - Outlander (Like I'm Gonna Lose You)
01 septembre 2015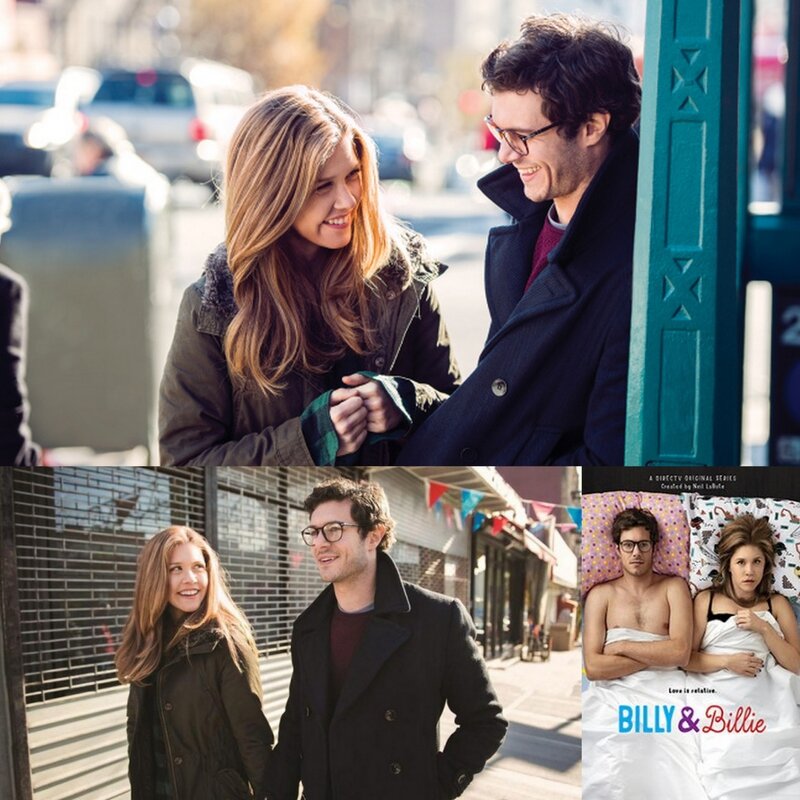 This new series broadcasted since March, 3rd on DIRECTV is my last discovery. Yes, I know I'm a little bit late on the schedule. But I'm very glad I found it.
Billy & Billie tells the story of step (not half!) siblings that fall for each other...romantically.
Composed of a single season divided in 10 episodes of 25 minutes each, this show is funny, entertaining and full of different emotions. The two main characters are portrayed by Lisa Joyce (Billie) and Adam Brody (Billy) also known to be Leighton Meester's husband and also a future daddy !
Here's some of the reasons (5 actually) why I LOVE Billy & Billie and why you should all watch it !
1 - The realism
Let me explain. When I say realism it's not necessarily about the situation but more about the way of filming and acting the show. Dialogues are more natural than some other show that we can find on FOX or the CW, just to name few channels. Here, we don't feel the scenario and moves are not forced. It's more like "the guy" sits if he wants to sit and not because someone told him to. I don't know if I'm being clear but I feel this way every time I watch B. & B.. It's not formatted. I hope I succeeded explaining to you the atmosphere.
I also like the way writers/directors are introducing scenes. They're using a typewriter so we can be informed of the place each scene is happening. It's quite funny to do so and to accentuate the parallel between Billy's life and Billie's. What they do at the same time but each in their own apartment, etc.
2 - The relationship
At first, I think lots of people, when they heard that the two protagonists who are step brother and sister were sleeping together and were in love, thought "Oh gosh! That's gross! Disgusting! Where are we ? Game of Thrones ?". Let me tell you : you're wrong! It's not like that at all and Billy makes that point very clear. He constantly repeats to other people that Billie is his "STEP SISTER !!!" "We're not related!" he says.
The funny thing is that they keep telling people they're not related, that there's no problem with them being together, that they aren't brother and sister but they still act like if they were. They still go to the family house and try to hide their relationship at the beginning (we'll see by the the end of the season they don't anymore). They laugh together about stupid things or past family events like real siblings would do. There's this thin limit between the two that is present, we feel it but they chose to overpass it and it's making their relationship stronger, better, funnier and more beautiful.
To conclude, I'd say they form the perfect couple. They're young, a little bit crazy, smart, in love. It's a pleasure to follow their story and to watch them growing in this relation.
3 - The feels
Yeah FEELS ! The true essence of that kind of show. The latter, is really centred on the two main characters. We always see them on screen so we get attached and end up feeling the same way as them. If Billy is mad at Billie so are we. If Billie is jealous we are, perhaps even more than her sometimes, etc. We're going through every emotions: anger, frustration, hapiness, sadness, disappointment... Morever, we're scared! For example, in this episode where "their' mum comes into the appartment unannounced visiting Billie while Billy who is in her bed immediately runs and pretends sleeping on the couch. Those moments are truly priceless.
However, the only "thing" we all agree on is this show makes you laugh. A lot. Fun is a huge part of it and we're pleased (sometimes) to see Billy & Billie arguing because it turns out to be very entertaining being spectator of those scenes. There are misunderstandings and each other often don't want to tell the other what he really thinks.
Another funny fact, which will appear as a detail for most of you I think, is the name of the magazine where Billy's working : "Chisel". At first, we all understand that as the synonym of "scissors" but it's not ! Indeed, if we dig a little and search for the slang meaning, the urban one well...how to say this...it can turn the situation on an uncomfortable or very hilarious level. Here's the link so you can see what I'm talking about !
Anyway, the show stays printed into your mind thanks to all those little details.
4 - The rest of the characters
Each character has a particularity, a proper personnality and that's why we love seeing them on screen besides B. & B.. There's the "temporary boss", who wants to do like his dad but don't succeed very much to do so, kind of a weirdo as well who tries to be fun but he's not. But this is why we love him! Right ?!
Then, the mum. Difficult character actually to describe. She's "posh" or at least looks like a rich person, haughty sometimes and who is absolutely against that relationship.
The dad is an alcoholic, a cheater screwing Drew (Billie's best friend). So let's talk about Drew. She's an actress or tries to be. She's also superfluous and mean at certain times.
Moreover, there's the Asian co-worker answering to the name of Denise. She's a cold, logical and rational person, quite "rigid" as well.
Another member of the cast is the loser co-worker who sleeps at some other people places when he needs to. He's not very smart, we don't know if he's working when he's at Chisel to be honest and has a mysterious obsession with Denise.
The penultimate on my list is the waitress with a weird name: September! Don't ask the reason why she's named that way because it's so stupid that it would either makes you laugh or confound, abash you.
And finally, the last : the "cliché" actor, the stereotype. He thinks he's hot and gorgeous but he's not. He thinks he's smart but no! he's just some big arm guy with a chickpea instead of a brain.
5 - The end
(NO spoilers here, you can read safely)
Indeed, the end is definitely one of the reasons why I love Billy & Billie because there's a HUGE cliffhanger! And when I say HUGE it's HUGE, ENORMOUS and SO FUNNY ! This end just give you the desire to get a season 2! Billy & Billie will have to face a lot if the series is renewed. I hope so! *crossed fingers* ;)