The other day I was watching Narnia again on TV, the second opus and I saw Ben Barnes. I already liked him a lot at that time. It reminded me as well of the time he played Dorian Gray and there, I totally fell in love him with him. So when I learnt he was starring in this musical drama movie "Jackie & Ryan" I got intrigued. I read the synopsis and thought "OK cool, this is going to be a nice little movie, entertaining but nothing more". To be honest, I thought it would be the kind of film you can watch while doing something else. But here's the thing: I was wrong. Once I started it I just could'nt stop staring at my screen. For me, Ben Barnes has been a revelation! I didn't even know he could sing! OMG! Sign him please and make him record and release an album of his own songs straight away! He has an amazing voice, deep and cracked.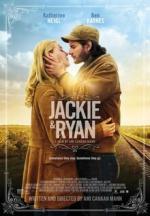 It's quite funny because Ben, who plays Ryan, is British so I guess he worked a little more on his accent so it can sound a little bit more as an American one and it's pretty convincing. Ryan, he's a traveller, a wanderer carrying his guitar everywhere and singing in different places where the route leads him. So when he meets Jackie (Katherine Heigl) who encounters some issues he decide to stay with her and her daughter for a little while. We can say the story eventually ends up being about life, love, music, adventure, freedom and roots. Furthermore, I really enjoyed the relationship between Ryan and Lia (Jackie's daughter). He's great with kids. But I think his story as well as Cowboy's could have been more deepened and detailed. We don't know much and that's kind of frustrating.
Let's talk about his partner in the movie, Katherine Heigl. Unlike him, she's not a singer so we only hear her a couple of times. To be honest, it could have been another story, not neccesarily the one of a single mum, former country singer who had to go back to her own mum after a divorce. Jackie wasn't very "useful". It's strange because on the other hand she was important because she represented the "home" factor for Ryan who after running away from his house at 16, and jumping from place to place, actually find the place he can call home. It goes the same with the ex-husband. We're losing time in the movie by seeing him and hearing about him so often for, let's be honest, nothing.
Finally, the movie made me think of the songs from Alabama Monroe. It's the same register and atmosphere. Of course, we can't compare the two because Alabama Monroe is a masterpiece.
So, go buy the soundtrack, it's fabulous and take the time to watch it! You'll like independent movies even more afterwards.