13 octobre 2016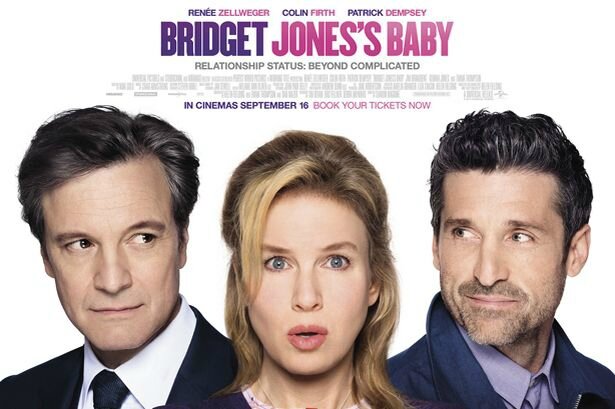 Bridget is back & we LOVE it!
Today I went to the movies to watch this marvellous third opus of the Bridget Jones saga. I have to say it was litteral perfection. I barely remember the last time I laughed so hard in a cinema room.
This time she runs quite "unexceptedly" into Mark Darcy at Daniel Cleaver's fake funerals. But this is happening a decade after we were used to see them as a couple. Things have changed, Mark got married but soon a divorced man to be and Bridget is still struggling to not ending up left on the shelf...if you see what I mean... ;) But one's thing sure they clearly still have feelings for each other.
However, everything is about to change because you know it's Bridget Jones we're talking about here so nothing's ever goes according to plan.
During a festival, the 43-year old woman's gonna have sex with a gorgeous man, Jake, played by Patrick Dempsey aka Mc. Dreamy for friends. But she's also making out with Darcy a few days later. Of course we all could guess, in that moment, what was about to happen...she eventually ends up being pregnant but without knowing who the dad is. How exciting!
At this point a sort of competition is starting between the two and it's hilarious to watch. It goes from who is offering her the best drink to the one who's ready to paint an entire room for the baby. It's actually hard to choose between Jake the billionnaire (he created a love algorithm) and Mark the uptight lawyer.
The great thing about this third opus is that the humour isn't just present into awkward situations but also because of many details. For instance, we could refer to the fake funerals of Daniel. He's actually alive and was found into a virgin forest (we're emphasizing "virgin" here because it's Daniel...). Same with the girls who were at the church but also with the references to the first two movies. Furthermore, one of the best character in this movie turned out to be the doctor played by Emma Thompson. She's so funny with her sarcasm and by making cutting remarks to her patients.
To sum up, let's say this movie is fun, refreshing, light. You start laughing even before the end of the first minute and you don't stop until the very end. I even cried as I laughed so hard at the scene where the two men are bringing her to the hospital.
Actually, the strenght of the movie is that among those events, laughs, smiles, fears, sad times and this incredible sense of humour it has a profound signification in which all men and especially women can find themselves in. It's an actual society issue...when having kids, worrying about the fact if it's too late or not, the fear of not being great in this "job". Every single person on this planet has experienced or is experimenting this.
This movie is amazing, generous, emotional and true. It's definitely worth watching not only if you want to laugh your ass off but also if you want to think about your life and to be moved, touched and to feel many different kind of stuff.