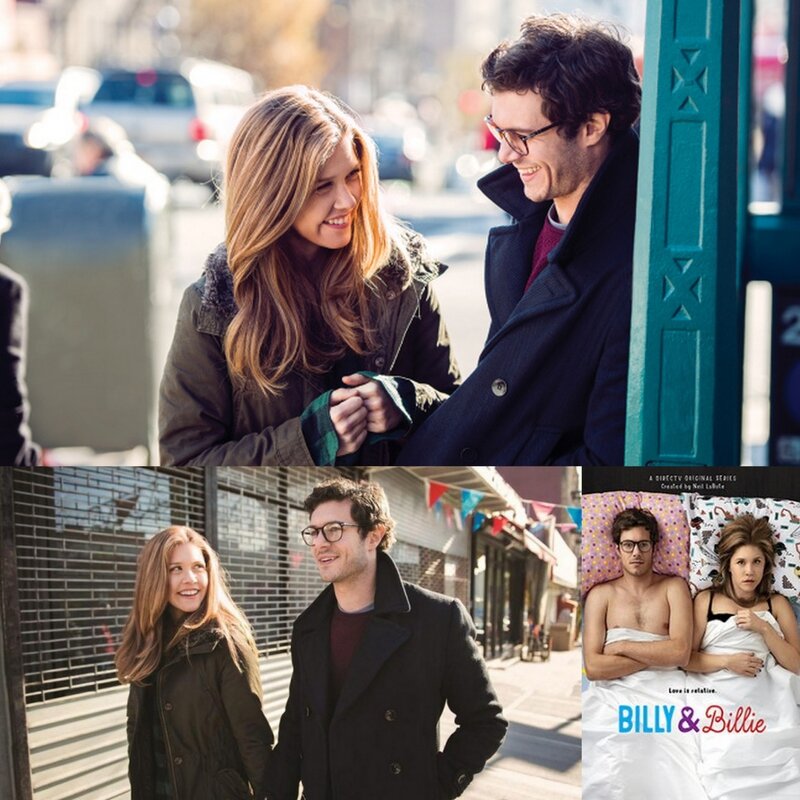 This new series broadcasted since March, 3rd on DIRECTV is my last discovery. Yes, I know I'm a little bit late on the schedule. But I'm very glad I found it.
Billy & Billie tells the story of step (not half!) siblings that fall for each other...romantically.
Composed of a single season divided in 10 episodes of 25 minutes each, this show is funny, entertaining and full of different emotions. The two main characters are portrayed by Lisa Joyce (Billie) and Adam Brody (Billy) also known to be Leighton Meester's husband and also a future daddy !
Here's some of the reasons (5 actually) why I LOVE Billy & Billie and why you should all watch it !
1 - The realism
Let me explain. When I say realism it's not necessarily about the situation but more about the way of filming and acting the show. Dialogues are more natural than some other show that we can find on FOX or the CW, just to name few channels. Here, we don't feel the scenario and moves are not forced. It's more like "the guy" sits if he wants to sit and not because someone told him to. I don't know if I'm being clear but I feel this way every time I watch B. & B.. It's not formatted. I hope I succeeded explaining to you the atmosphere.
I also like the way writers/directors are introducing scenes. They're using a typewriter so we can be informed of the place each scene is happening. It's quite funny to do so and to accentuate the parallel between Billy's life and Billie's. What they do at the same time but each in their own apartment, etc.
2 - The relationship
At first, I think lots of people, when they heard that the two protagonists who are step brother and sister were sleeping together and were in love, thought "Oh gosh! That's gross! Disgusting! Where are we ? Game of Thrones ?". Let me tell you : you're wrong! It's not like that at all and Billy makes that point very clear. He constantly repeats to other people that Billie is his "STEP SISTER !!!" "We're not related!" he says.
The funny thing is that they keep telling people they're not related, that there's no problem with them being together, that they aren't brother and sister but they still act like if they were. They still go to the family house and try to hide their relationship at the beginning (we'll see by the the end of the season they don't anymore). They laugh together about stupid things or past family events like real siblings would do. There's this thin limit between the two that is present, we feel it but they chose to overpass it and it's making their relationship stronger, better, funnier and more beautiful.
To conclude, I'd say they form the perfect couple. They're young, a little bit crazy, smart, in love. It's a pleasure to follow their story and to watch them growing in this relation.
3 - The feels
Yeah FEELS ! The true essence of that kind of show. The latter, is really centred on the two main characters. We always see them on screen so we get attached and end up feeling the same way as them. If Billy is mad at Billie so are we. If Billie is jealous we are, perhaps even more than her sometimes, etc. We're going through every emotions: anger, frustration, hapiness, sadness, disappointment... Morever, we're scared! For example, in this episode where "their' mum comes into the appartment unannounced visiting Billie while Billy who is in her bed immediately runs and pretends sleeping on the couch. Those moments are truly priceless.
However, the only "thing" we all agree on is this show makes you laugh. A lot. Fun is a huge part of it and we're pleased (sometimes) to see Billy & Billie arguing because it turns out to be very entertaining being spectator of those scenes. There are misunderstandings and each other often don't want to tell the other what he really thinks.
Another funny fact, which will appear as a detail for most of you I think, is the name of the magazine where Billy's working : "Chisel". At first, we all understand that as the synonym of "scissors" but it's not ! Indeed, if we dig a little and search for the slang meaning, the urban one well...how to say this...it can turn the situation on an uncomfortable or very hilarious level. Here's the link so you can see what I'm talking about !
Anyway, the show stays printed into your mind thanks to all those little details.
4 - The rest of the characters
Each character has a particularity, a proper personnality and that's why we love seeing them on screen besides B. & B.. There's the "temporary boss", who wants to do like his dad but don't succeed very much to do so, kind of a weirdo as well who tries to be fun but he's not. But this is why we love him! Right ?!
Then, the mum. Difficult character actually to describe. She's "posh" or at least looks like a rich person, haughty sometimes and who is absolutely against that relationship.
The dad is an alcoholic, a cheater screwing Drew (Billie's best friend). So let's talk about Drew. She's an actress or tries to be. She's also superfluous and mean at certain times.
Moreover, there's the Asian co-worker answering to the name of Denise. She's a cold, logical and rational person, quite "rigid" as well.
Another member of the cast is the loser co-worker who sleeps at some other people places when he needs to. He's not very smart, we don't know if he's working when he's at Chisel to be honest and has a mysterious obsession with Denise.
The penultimate on my list is the waitress with a weird name: September! Don't ask the reason why she's named that way because it's so stupid that it would either makes you laugh or confound, abash you.
And finally, the last : the "cliché" actor, the stereotype. He thinks he's hot and gorgeous but he's not. He thinks he's smart but no! he's just some big arm guy with a chickpea instead of a brain.
5 - The end
(NO spoilers here, you can read safely)
Indeed, the end is definitely one of the reasons why I love Billy & Billie because there's a HUGE cliffhanger! And when I say HUGE it's HUGE, ENORMOUS and SO FUNNY ! This end just give you the desire to get a season 2! Billy & Billie will have to face a lot if the series is renewed. I hope so! *crossed fingers* ;)